I've been wanting to create a set of mismatched vintage flatware and was on the search for pieces that I liked at the Brimfield antique shows. This is what I came home with (click photos):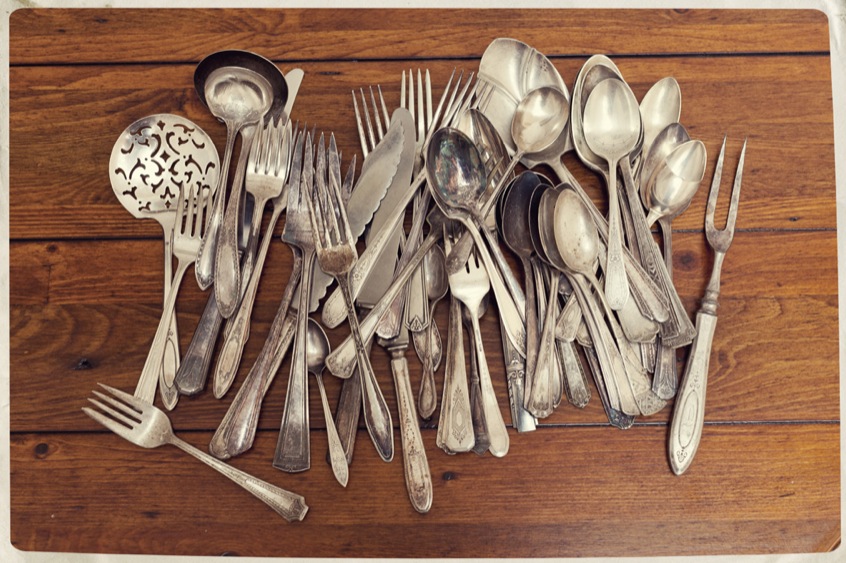 I tried not to get more than two or three pieces of the same pattern. So for the most part they are all different. I'm attracted to the more geometric deco patterns instead of heavy florals. Which is pretty good for me because they are less collectible than the florals and therefore less expensive.
As far as cost, I got these pieces for between free and $10. The higher price was for a serving piece, but most of the individual forks or spoons were about $.25 to $3 each. Often you will come across a dealer with a huge box that simply says 3 for $1 or something like that. Also an advantage of collecting the less desirable patterns.
If you want to shop with dealers that have their merchandise displayed in sets and already polished, you will certainly pay more. If you shop like I do through the tarnished masses, you can find some amazing deals even on very collectible patterns.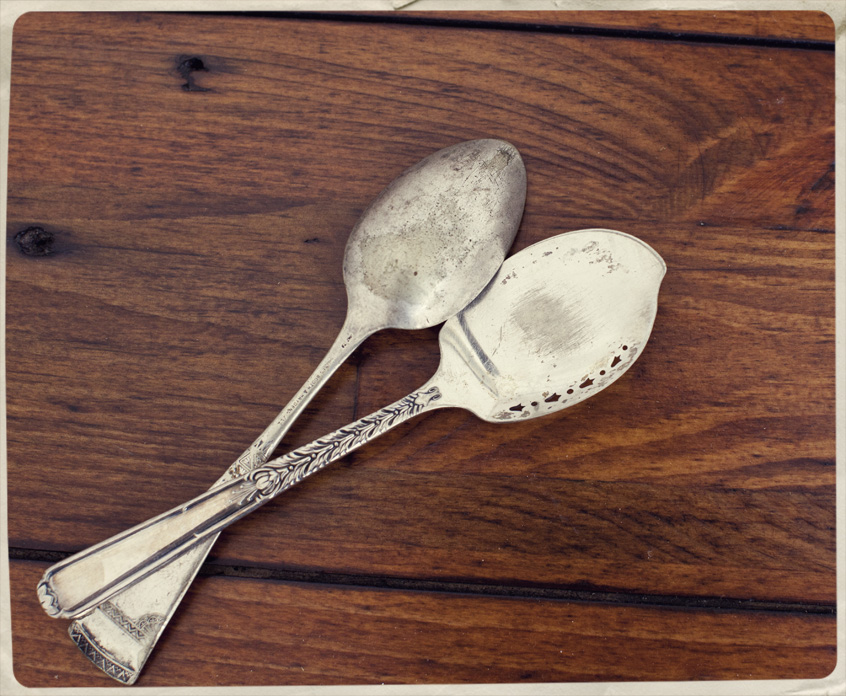 But there are a few tarnish issues to looks for if you plan on using this flatware. When buying tarnished pieces, you need to look for permanent wear and stains, bends, chips or dents, especially with fork tines. Plate wear (pictured above) is a permanent stain that looks like a tan or grey dull spot. It is the area where the silver has been worn away and will never get shiny when polished. The piece is still usable, but it will always appear to be dirty. This is a fatal flaw that can not be cleaned away. If you like the thick patina and plan to keep these pieces as display only, you can get a fantastic deal on these "ruined" pieces because they are almost unsellable. Some dealers will give them away for free.
Monograms are also undesirable and will be sold at a lower cost. So if you want to search for your own initials, I bought a few discounted pieces with As and Ts, it can be fun to hunt for and be great accent pieces in your collection.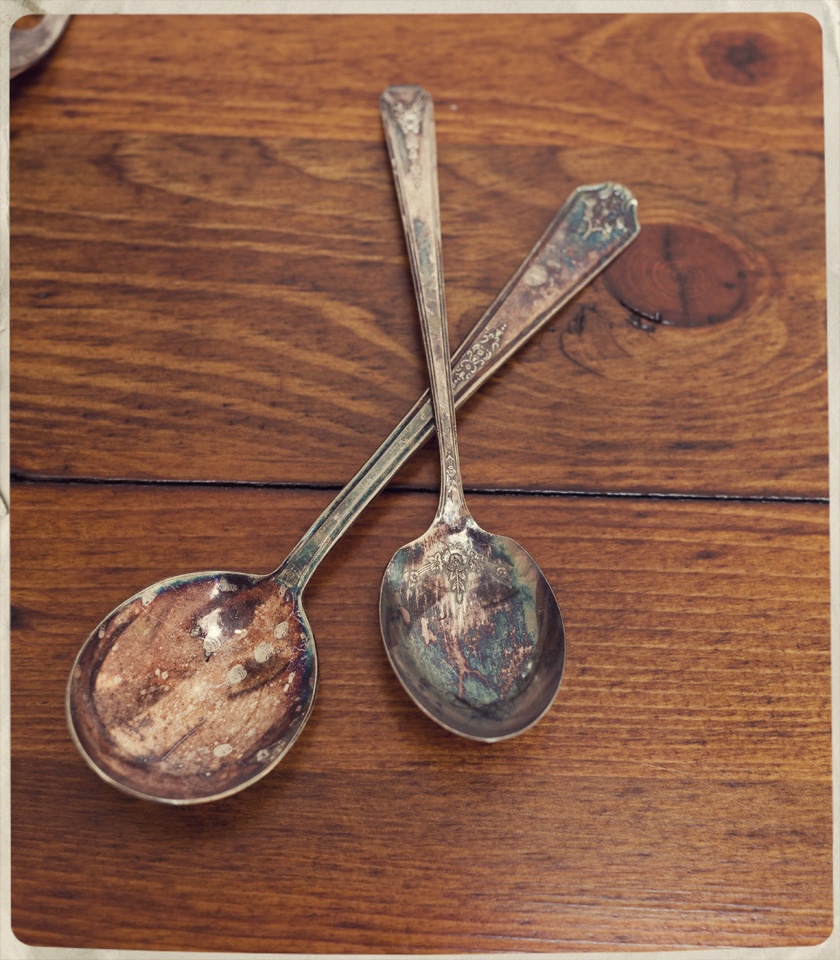 A positive tarnish to search for especially in junk piles would be a heavily colored patina. If you spot a piece that is very colorful and shiny, it will look as if it is dirtier than all the others (like the spoons above). But this really means the piece has a higher level of silver than others and has simply become oxidized. Once it is cleaned, it will be more brilliant than a less patinated piece.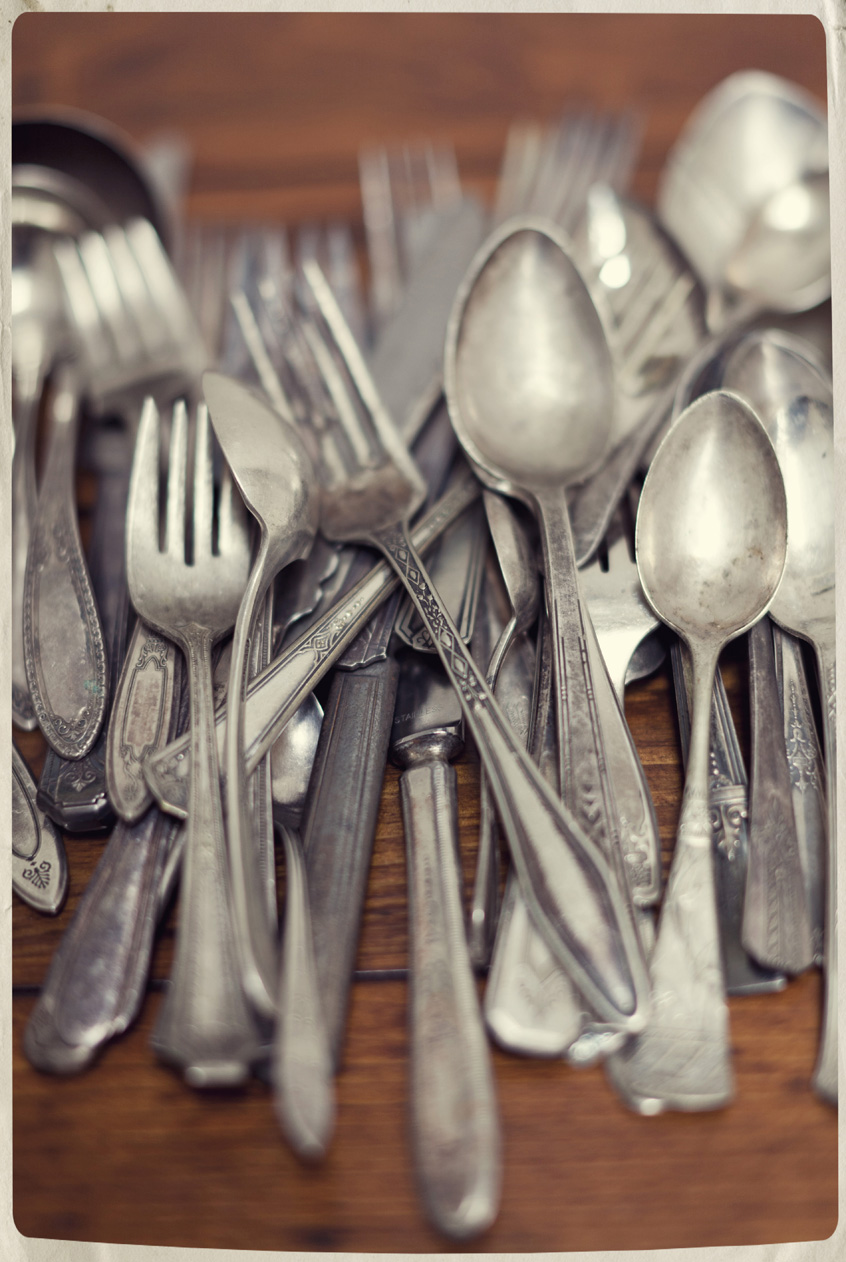 If you are interested in finding and hunting for a particular pattern, or just want to know what the patterns are, this is a great guide with clear photos. I have an older version, but these patterns are pretty old too so it doesn't really matter unless you want updated price estimates.
If you ever get into vintage flatware, there is a bounty of patterns as well as a bounty of pieces. After you have found the simple knife-fork-spoon trio, you can hunt for the more obscure pieces like tomato servers, ice cream forks, olive spoons, master butter knives, snail picks… the list goes on. Food was never touched in higher society, so there was a utensil made to serve and another to consume almost every type of food. A favorite of mine are asparagus tongs (I don't have any since they can be pretty pricey). Talk to dealers about some of the unknown pieces you find in their booths. They love to share their knowledge.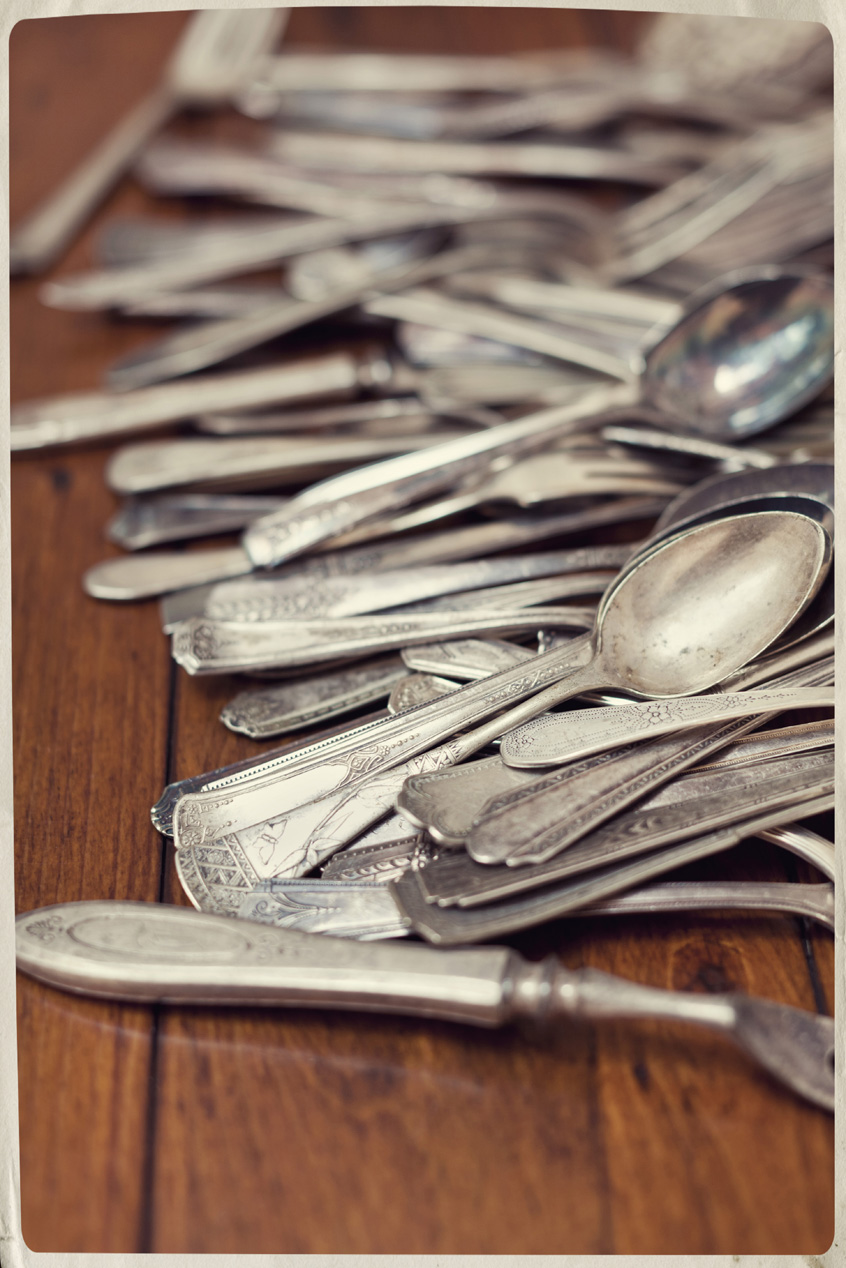 I had written a post a while ago about cleaning silver. That is a basic little tutorial for bringing these pieces back to usable glory. I love the worn patina, but I love using my antiques more than looking at them, so I'll certainly be spending the time to clean this massive pile. A good thing is, the more you use them the less often you have to clean them. "After" photos coming soon.
(I searched through a lot of boxes from many different dealers to find these pieces, but the best ones came from this dealer.)